See on Scoop.it – Omnichannel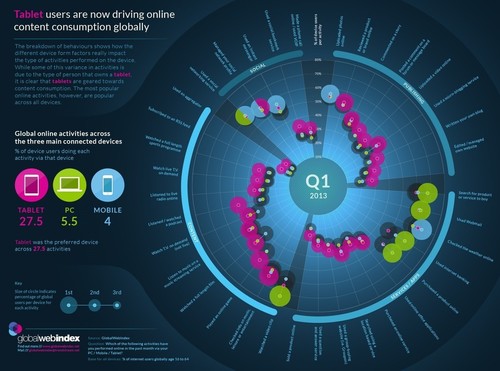 Today we are releasing a brand new infographic that explores the reality of how 36 key Internet behaviours play out across multiple devices. The data displayed looks at active usage in the past month. For ease of interpretation these have been broken down into four key categories: Social, Publishing, Content and Services / Apps.
When interpreting this infographic it is very important to understand that the percentage scores relate to the users of that device, rather than the percentage of the total Internet population. For example, 70% of mobile Internet users checked the weather online in the past month, versus 68% of Tablet users and 60% of PC users. We display the data in this way so that the relative behavioural profile of each device can be understood.
This cross-device view is an absolutely fundamental aspect of our data and highlights for the first time the importance of tailoring behaviours to device. Using data that does not provide this total view will sell your strategy short.
If we drill down into the data, the key fact you need to know is that tablet users are the most active online, leading in over 27 behaviours. Further analysis demonstrates that the majority of these are content-related.

See on www.globalwebindex.net