See on Scoop.it – Big Data and Personalization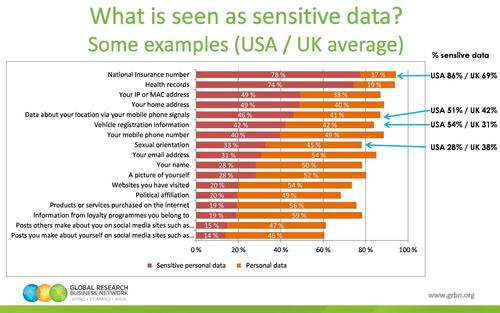 A new report from the Global Research Business Network on attitudes to personal and sensitive data has revealed that 40% of UK citizens and 45% of people living in the US saying they are very concerned about how their data is used.
Not only is beauty in the eye of the beholder, so too it seems is the perception of what is seen as sensitive personal data by consumers and what is not. A recent study by GRBN (Global Research Business Network – www.grbn.org) was presented at IIeX in Amsterdam and has profound implications for the market research industry. The study consisted of over 2000 interviews conducted in early February across the United States and the United Kingdom. The purpose of the study was to identify issues, from the consumers' perspective, that relate to an increasingly dicey world of data privacy. You can download the report here.
Recent revelations such as the capabilities of the NSA or data security breaches of enormous magnitude (think Target) can make even the most complacent consumer jittery about personal information floating around cyberspace. So what did the GRBN survey find?

See on www.greenbookblog.org