See on Scoop.it – Omnichannel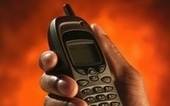 There are plenty of reasons consumers use smartphones to shop, ranging from access to product information to finding competitive pricing.
And many shoppers find their own preferred path to purchase and their own reasons why.
For example, as I wrote about earlier this week, consumers use both apps and mobile websites to shop and more find mobile browsers to be more convenient (More Mobile Shoppers Like Convenience of Websites Over Apps).
Almost half (46%) of mobile shoppers say their shopping experience would be better if they could check available stock while in a store and almost a third (31%) want in-store Wi-Fi with a simple login.
But some consumers don't use any online tools to buy, primarily because they like to shop in a store where they can see and touch their desired products.
Based on a large global study by PwC, of those who did not purchase online, here are the top reasons:
54% — Prefer to touch/try the product52% — Just prefer to shop in store43% — Worried about security of personal data35% — Don't trust online payment methods25% — Don't have a credit/debit card

See on www.mediapost.com